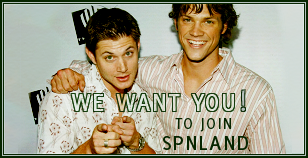 Join

spnland ! Sign up here!
The new Apocalypse just started and it's awesome.






Join this too! For once, it's not an exchange that I'm running. BUT THINK OF THE POSSIBILITIES.

Sam/Dean/Bela! Sam/Dean/Cassie! Sam/Dean/Anna! Dean/Sam/Dean! (Shut up.)

EVERY PERMUTATION OF FEMMESLASHY OT3NESS IMAGINABLE.

Ben/Jesse/Claire!




Also? This. Make me pretty icons of pretty girls! Do want!

Or at least support the makers of pretty icons of pretty girls :D

And finally....




A comm! For poetry! That reminds you of Winchesters! POETRY! WINCHESTERS! ACK.

Join it omg omg.


ETA: To supply some actual content, and not really related to any of this except in that's it's also awesome:

If the Constitution means anything, it does at the very least mean that the Constitution
will not abide a bare congressional desire to harm a politically unpopular group.

-Judge Joseph Tauro, striking down a key part of DoMA.